Sparks | Jade Indica | Claire Adams
Mar 30, 2011
Jade Indica practically volunteered for some electrical play with Claire Adams. She thought it would maybe involve a few stim pads or a violet wand. So when Claire decided to push a little shocker right up inside of her tight little ass the first few pops were quite a surprise. She adapted fast, though, and soon she was begging for more jolts to help her really enjoy her orgasms. Things look like they are getting better for her after that but anyone can tell they are about to get much worse when Claire begins to wrap her face in conductive copper wires.
Jade O' Lantern | Jade Indica
Nov 3, 2009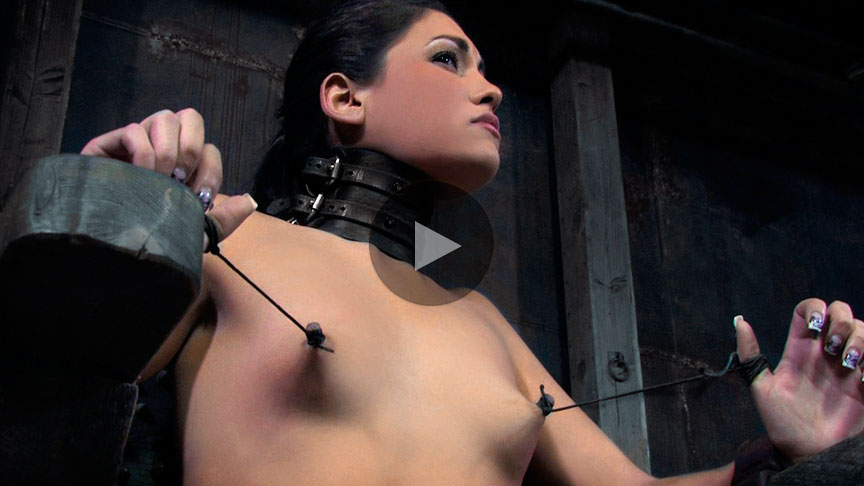 Jade signed up to be the next bitch in line for RealTimeBondage. That makes her the cunt du jour for everyone's entertainment. What do the members have in store for her during this live feed? More torments than she could have imagined. Each new idea from the members produces another level of pain or humiliation for Jade. With Halloween just around the corner a standard mask or hood would just be boring so the RTB crew puts a more creative spin on it. A simple Q&A is standard, but a few electrodes vastly improve the experience for everyone. The worst part is how they turn her orgasms against her, though. Every time Jade cums it is only to further the ideas of the crew and the membership. Everyone has a different idea about how to turn the pleasure into its own punishment and they'll use them all.
Captive Cunt | Jade Indica
Aug 28, 2009
Jade is just the right kind of girl to find on the side of the road. she is hot, alone and dumb enough to get into the car with PD. They do not make it very far before their is car trouble and he uses it as the perfect excuse to take his pretty prey. She is too hot not to violate, no matter how much she protests.

PD is going to make sure that pussy gets stuffed over and over until it cannot take anymore. Her cunt is exhausted and so PD sticks her in a cage for safe keeping. He gives the bitch her bread and water. The complaint department is closed right now. Every time she bitches about her dinner he takes another shot at her ass, though.
[Archive] Fit To Be Tied | Jade Indica | Sister Dee
Aug 8, 2009
Jade is fit to be tied. She would be able to get away from the pain Sister Dee has in store for her, but fortunately she can't quite reach the place where her rope is secured. She's a defiant little cunt but Dee is confident that she can make her scream. The cane gets quite a reaction but not quite the one Dee's looking for, so she keeps pushing more pain. Jade doesn't seem to mind, too much, though. Every one of the torments makes her pussy wet and so after each one Dee makes her orgasm, preparing her for the next round. As the pain and degradations go further the orgasms become even more intense.
Suffering | Jade Indica
Jul 22, 2009
Jade has the kind of body PD loves to play with. She's fresh, fit and tight. That means he's going to get all the use he can out of her. She spends a lot of time hanging between two posts that keep her very well immobilized. Jade can't get away from PD's cock or the elephant trunk he uses to whip her ass and cunt.

Jade's suffering is a huge turn on for PD. While he fucks her pussy she moans like a slut and to get even more from her he canes her ass, legs and feet. She is so hot when she gets hit that he can't contain himself any longer. PD shoots his load all over her face, making sure to get a healthy dose right into her eye.

His cock may have been satisfied but his sadistic desires are far from sated. Every time Jade's feet move, even an inch, the ropes to her tits threaten to tug her piercings out. She takes brutal cane strokes on her feet and hardly moves but once PD starts vibrating her clit she can't control herself. The sharp pains just push her even closer to orgasm.